Non-foaming Classic Autorinse Aspirator Daily Cleaner - 2L
Non-foaming Classic Autorinse Aspirator Daily Cleaner - 2L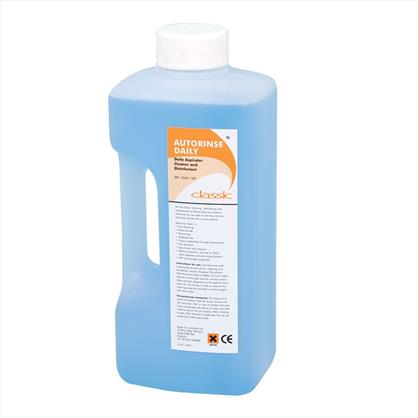 Ref: T5404
Description
For the daily or weekly cleaning and maintenance of dental aspirator systems.
Can be used on wet line, dry line and semi wet/dry line systems.
Non-foaming, aldehyde free.
Chlorine free.
Will not damage equipment.
Non-abrasive.
Phenol free.
Easy to use and measure. Alkaline based.
Effective against: A. niger, Bacteria, C. albicans, E. coli, E. hirae, Fungi, Human Influenza B Virus, HIV-1, MRSA, P. aeruginosa Fungus, S. aureus, Viruses.
2L concentrate makes 100L of solution.
Colour-coded blue.