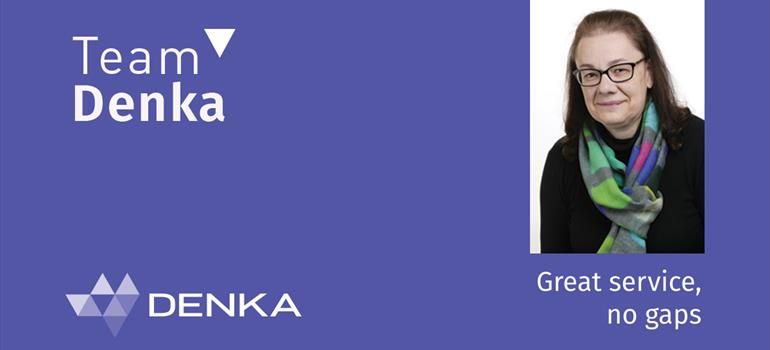 We're a pretty close-knit team here at Denka; our staff work together like a well-oiled machine and collectively we like to think we have a wealth of experience to offer our customers. There are some team members, however, who have been a part of Denka for so long that they are part of the company's DNA – people like Sue Cuckson, who literally knows every part of the business inside out! With expertise amassed over more than two decades, Sue's insight into the dental sector is second to none and she's adept at keeping her eye on all areas of Denka's operations to make sure things are running smoothly – in short, we would be lost without her! We chatted to Sue to find out more…
Hi Sue! You've been with Denka since the very start – tell us a bit more about your journey…
Hello! Yes that's right, I've been with the company for a total of 25 years, during which time we have evolved quite a bit to become what Denka is today! Prior to this I worked in the printing and publishing industry – first for a stationery company and then for a firm that sold books and maps. Probably because I've been here for so long, I'm involved in every part of the company from customer service and accounts through to purchasing.
What's your favourite thing about your job?
I get a great deal of satisfaction from resolving issues and challenges for customers. Throughout the company's history, this has always been a key priority and I believe you just can't beat the personal touch.
What's the most challenging thing?
Definitely IT issues!
What would you say are the key attributes required to perform well in your role?
I would say to be attentive to the needs of both customers and staff, able to multi-task and keep calm under pressure!
If you didn't work at Denka, what would your dream job be?
When my Mother was in a hospice before she passed away and my Father was in a nursing home before he passed away, I realized what a need there is for people to visit these people, to make them feel human and wanted and loved. I would do something like that.
Tell us an interesting fact about yourself that colleagues might not know?
I won the school relay for five years on the run!
What's the one thing that always makes you smile?
Seeing the sun. Everything seems better when the sun is shining!