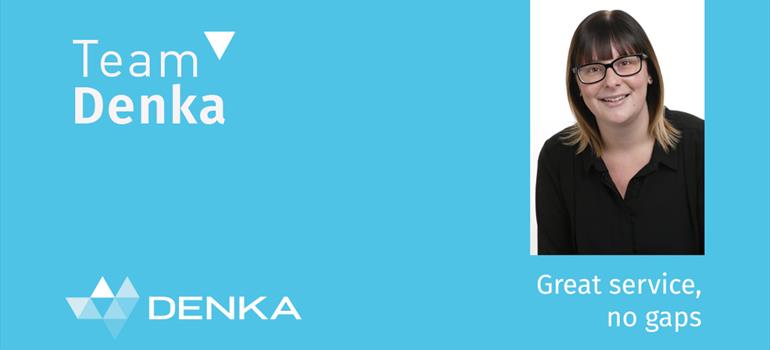 Meet the Team: Aimee Jackson
Excellent customer service is intrinsic to Denka's mission of making life easier for our customers working in the busy dental sector. In this digital era we believe there's still huge value in being able to speak to a real person who understands your business and any challenges you may face. Of course, as anybody who works in a customer-facing role knows, the ability to multi-task is a key skill – and they don't come much better at multi-tasking than our Aimee Jackson, whose main role is quality control, but who brings her considerable customer service expertise to the fore across several areas of our business. Over to Aimee to find out more…
Hello Aimee! Thanks for chatting to us today. Tell us a bit more about your role and responsibilities with Denka…
Hi! I wear quite a few hats here at Denka! I arrived three years ago to work in Customer Service and I am still involved in that department, but my main role now is as Quality Control team Leader. This means I am responsible for managing our quality system for our pharmaceutical items as well as preparing quotations for customers and supporting them with any questions or queries they may have. I also help out in our purchasing team.
What was your professional background prior to this?
I suppose you could say I'm a people person! My previous roles have always involved customer service; my career began as a receptionist at a local gym, and then I moved on to become a Service Advisor in a Volkswagen showroom before coming to Denka (or Dental Express as it was known then!)
What's your favourite thing about your job?
I enjoy working with our customers to give them everything they need to provide the best service for their patients. I also thoroughly enjoy working with the team here at Denka as everyone is passionate about what we do.
What's the most challenging thing?
I would definitely say managing time to ensure nothing slips through the net. There are many areas to my role which all need to be kept up to date to keep things running smoothly.
What would you say are the key attributes required to perform well in your role?
Being organised and staying calm in what can sometimes be a demanding environment. Every day here at Denka is different so we must be prepared for whatever the day brings!
If you didn't work at Denka, what would your dream job be?
After swimming with Dolphins on holiday in Florida, I have always fancied becoming a dolphin trainer!
Do you have any hobbies or interests away from work?
I enjoy going to music concerts with my friends, but usually away from work you will find me enjoying a shopping trip or two.
Tell us an interesting fact about yourself that colleagues might not know:
I once performed in a production of Joseph and the Amazing Technicolour Dreamcoat at the Sheffield Crucible.
What's the one thing that always makes you smile?
Planning our family holidays. Quality time with loved ones is precious so it's important to make as many memories together as you can.