Bossklein Mint Alcohol Free Surface Disinfectant Wipes - x 200
Bossklein Mint Alcohol Free Surface Disinfectant Wipes - x 200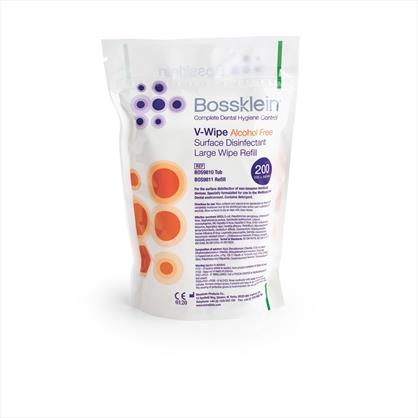 Ref: D1082
Description
EFFECTIVE AGAINST CORONAVIRUS – VIRUS TESTED TO EN14476
Bossklein V-Wipe alcohol-free professional surface disinfectant wipes have all been specially formulated for use in the medical and dental environment for the surface disinfection of non-invasive medical devices. Wipes have a pleasant mint aroma.
Alcohol Free
Mint x 200
Size: 200x200mm
To use: Using a new wipe for each application wipe objects to be disinfected so that they are completely moistened and let the disinfectant take action over a minimum of 30 seconds (to achieve full efficacy leave for 5 minutes). Allow surface to dry or wipe with clean tissue. For professional use only..
Efficacy:
Bactericidal 30 sec: Pseudomonas aeruginosa, Enterococcus hirae, Staphylococcus aureus, MRSA (60 sec), VRE (60 sec)
Mycobactericidal 2 min: Mycobacterium avium
Yeasticidal 30 sec: Candida albicans
Enveloped Viruses 2 min: Poxviridae, Herpesviridae, Filoviridae (e.g. Ebola, Marburg), Flavivirus, Hepatitis B virus (HBV), Hepatitis C virus (HCV), Hepatitis Delta virus (HDV), Influenza virus, Paramyxoviridae, Rubella virus, Measles virus, Rabies virus, Coronavirus (e.g. SARS, MERS), Human immunodeficiency virus (HIV) & Human T cell leukemia virus (HTLV)
Fungicidal 30 sec: Aspergillus niger
Spores: Clostridium difficile C-diff (5 min)
Tested to Standards: EN 14885, EN 14476, EN 14348, EN 13727, EN 13704, EN 13624.
Refill pack of 200 wipes, wipe size 200 x 200mm. Refill pack can be used inside dispenser tub.