Alkazyme Instrument Disinfectant - x 750g
Alkazyme Instrument Disinfectant - x 750g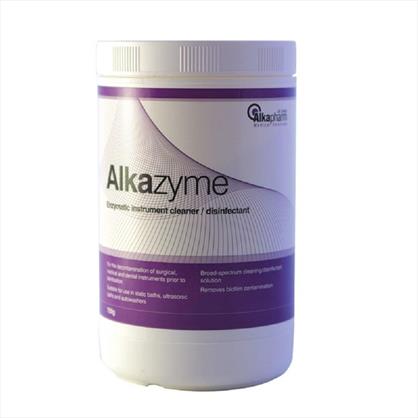 Ref: T4688
Description
An alkaline enzyme-based disinfectant cleaner.
A powerful lime sequestering agent: inhibits limescale deposits and prevents biofilm mineralisation.
Acts on the biofilm's internal structure: its alkaline pH provides excellent cleansing action, leaving equipment clean, shining and smartened up, without the need for scrubbing.
Optimum capacity to make soiling soluble (blood, pus, etc.):the powder form preserves the enzymes' efficacy, which is not usually compatible with an alkaline pH.
The wastewater discharged is Decontaminated: up to 7 log reduction of bacteria in 15 mins
Bactericidal, Yeasticidal, effective against HIV, Hepatitis B, Hepatitis C and Herpes virus.