Meet the Team: Victoria Ward
Meet the Team: Victoria Ward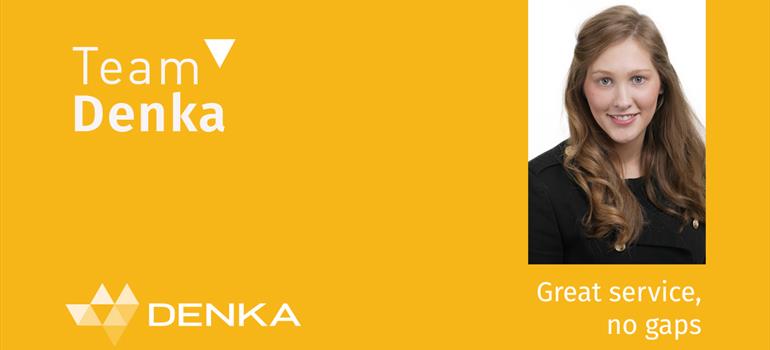 The internet and mobile technology are such an enormous part of our lifestyles these days that it's hard to imagine how we ever survived without them! For any modern business, having an online presence and being digitally available to its clients is essential in order to compete in the 21st century marketplace, and here at Denka we're no different.
Tasked with keeping the digital side of our business in tip-top condition is the very lovely Victoria Ward, who manages our website and never fails to inspire us with her knowledge about the mysterious and sometimes confusing world of online! We grabbed Victoria for a quick chat about her important role here at Denka and how she unwinds after a long day at the computer…
Hi Victoria! Tell us a little bit about your role at Denka and how long you've worked here…
Hi! I've been working at Denka for just over three years now and it was my first job after completing sixth form at school. My role is Digital Development, which basically means I focus on making sure that the website is up and running at its best and making sure it's easy and efficient for our customers to use. My aim is to make sure we have little or no downtime on the site.
What's your favourite thing about working in the dental sector?
I find it so fascinating to understand what you're actually having done at the dentist, and to know what the items are that they are using in your mouth. I used to think ignorance was bliss and I'm sure many people are the same but strangely I find it satisfying to know what they're doing in there when they start drilling!
What's the most challenging thing about your role at Denka?
Well, it doesn't happen very often but on the rare occasion that the website is down, it's always my biggest challenge to not only keep myself calm whilst sorting it, but to keep everyone else calm whilst it's being sorted!
If you didn't work at Denka, what would your dream job be?
I would love to be a full-time photographer of unique scenes, textures and other random stuff! First, I'd have to get good at photography – at the moment it's very much a hobby for me, and something I am learning about all the time. I love to capture things in ways that I don't think other people would see. Failing that, I'd just be happy to be paid to travel the world - I find it so interesting to see cultures from other countries.
Tell us an interesting fact about yourself that colleagues might not know?
I'd be handy to have around if any of them ever fell into water - when I was 9 I completed a 'swimmer saver' course, where I learnt how to save someone from drowning. Another thing people find unusual is when I say neither myself nor any of my four siblings have ever broken a bone.
Name a food you love that your dentist would disapprove of?
I am a complete chocoholic, there's no denying that! My argument is that there's some calcium in chocolate so surely that's better for my teeth than some things?!
What's the one thing that always makes you smile?
Let's be honest… food is always a winner!