Meet the Team: Sheryl Wanstall
Meet the Team: Sheryl Wanstall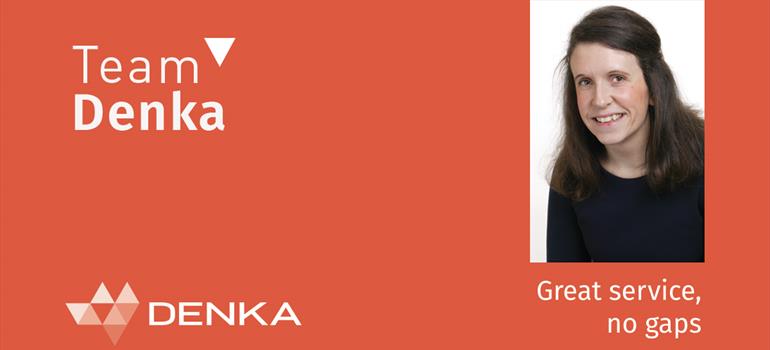 Rebranding an entire company is no small feat. It takes huge amounts of planning, thought and effort – and when all that is done, there's just the small matter of telling the world!
This gargantuan task recently fell to our fantastic Marketing Coordinator Sheryl Wanstall. Always efficient, Sheryl has been busier than ever over the past number of months making sure that everybody connected with Denka – from staff to customers – has full awareness of our new brand and the company's updated offering.
Sheryl has been with the company for an amazing 13 years, so what she doesn't know about the dental industry isn't worth knowing – we caught up with her for a quick chat…
Hi Sheryl! Tell us a little bit about your journey with Denka…
Hello! Well, I've been working here long before we were known as Denka! This was my first job after I left school in 2005 so I've been here for 13 years. My role involves coordinating all marketing projects and liaising with the design team to create all the content we need for our online and physical marketing campaigns.
What's your favourite thing about your job?
I really enjoy marketing - getting projects completed before time and getting everything scheduled so we all know where we are heading. There's always something to be done so it can be very busy but I enjoy the fast pace! I also love attending exhibitions, it's always good to get about and meet our customers.
What's the most challenging thing about your role?
I would say keeping on top of the schedule, which has been particularly crammed over the last few months due to the rebrand, and making sure tasks are always ready to deliver on time.
What would you say are the key attributes required to perform well in your role?
Undoubtedly communication with the rest of the team, which is really key for successful messaging whether internal or external. There's also a need to be flexible, accountable and able to sit down and engage in discussions about the best approach.
If you didn't work at Denka, what would your dream job be?
I love sports and play tennis whenever I can, so I would like to be a sports coach!
Do you have any hobbies or interests away from work?
I love to travel and get to know different people and places – it widens your view of the world.
Tell us an interesting fact about yourself that colleagues might not know?
I used to wear glasses!
Name a food you love that your dentist would disapprove of?
That would have to be Haribo Tangfastics – it's impossible to eat just one!
What's the one thing that always makes you smile?
My 6-year-old cousin, who is full of mischief and always quick off the mark!