Meet the Team: Director Patrick South
Meet the Team: Director Patrick South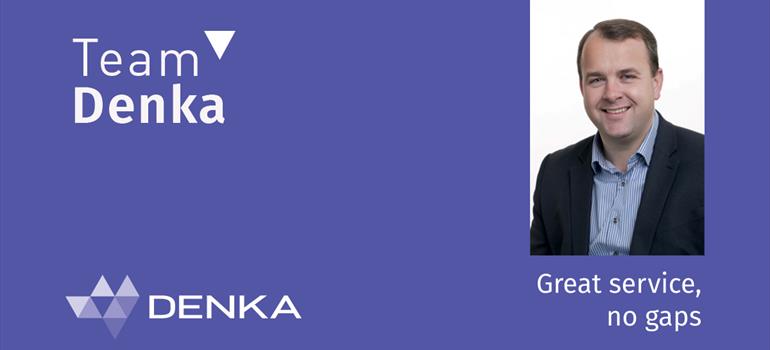 Starting a business takes courage, determination, and self-belief. These qualities are ones that our directors have displayed in abundance, along with strong leadership that has guided Denka through a 20-year evolution to where it is today. Their vision remains the defining factor that drives Denka to improve, while their experience informs every aspect of how we relate, business-to-business, with our clients. We caught up with one of them, Patrick South, to find out more…
Hi Patrick! You're one of Denka's founders – tell us a bit about how it all began.
Hello! Yes that's right – my father started the business in 1993 which I joined right after I left school. Over the years this has now evolved to become Denka. I've seen the business grow from its first member of staff in 1998, through various changes including merging business with my fellow owner and director Andrew Cuckson in 2013, to where we are now. As a business, we've had ups and downs but glad to say more ups than downs, which is why we are where we are today...and growing! Indeed some of the customers still remember me from when I used to deliver the goods in the early days!
Describe your typical day at Denka – if such a thing exists!
Busy! I am ultimately responsible for Product Development, Sourcing and Marketing for the company. When I'm not answering emails, I am liaising with the Marketing team ensuring we communicate effectively to our customers, as well as our Purchasing team to ensure we are buying the right products from the right source. As a fast growing company I am constantly looking for new innovative products that complement our range and company mission. This involves initial research right through to product conception, design, production and marketing for the product launch. I also spend a lot of time trying to transfer 20 years of product and sector knowledge through to our fast-growing dedicated team here, some of whom are new to the industry.
What inspires you most about this industry?
I love the dental industry! It's a cottage industry and everyone knows everyone else – however the potential is massive and we feel we have a lot to offer as probably the only truly independent, family run dental supplies company in the UK. There is nothing I like more than to source a great product and make it market ready to sell to our customers.
What's the biggest professional challenge you face?
There are plenty of big corporate dental supplies companies out there, and their challenge is they simply can't look after their customers like we are able to, because they are far too big and cumbersome. Our challenge, being a smaller company by comparison, is to get our message out to the sector consistently and for long enough for potential customers to 'get it'. Once they do, they're hooked!
What's the key to success in your role?
A relentless desire to always do better, and to always be growing. You may say that sounds commercial, but the truth is if your mindset is to always be growing then ultimately the customers are the winners – you have to be doing things right for the customer in order to get growth.
If you didn't work at Denka, what would your dream job be?
That's an interesting question! I guess this is my dream job, seeing as I was one of the founders of the company! If the question was "If you were to sell up what would do next?" then I guess the answer would be "start another business!"
Do you have any hobbies or interests away from work? How do you unwind at the end of a long day/week?
I don't get much time to unwind with four children! As a family, we do enjoy entertaining guests, particularly in the summer months, the kids enjoy that too so it keeps us all happy!
Name a food you love that your dentist would disapprove of?
Maynards Sports Mix
What's the one thing that always makes you smile?
I'm a governor on my children's school board and I love the year end presentation afternoons. All the school kids there are so enthusiastic and not afraid to put on a show – they really are an inspiration!
Anything else you'd like to add?
I'd emphasize that none of what we have achieved as a company could have happened without our excellent, loyal staff. I know our customers love them too – they tell us all the time! So, for any of our staff members reading this – thank you.