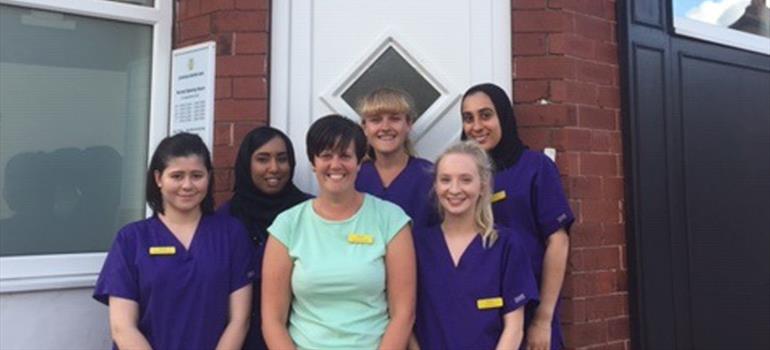 Denka's customer base spans all sorts of dental practices, from medium sized groups to small independents, but all with the same objectives – to offer the very best care to their patients. We like to think we're supporting that vision by supplying our clients with quality, reliable products and a great service that cuts hassle and leaves them free to get on with the really important work. That's why it's so satisfying to hear from customers who value what we're doing just as much as we value their business! Precious Dental Care in Leeds is just one of our new clients, having made the switch to Denka earlier this year when they discovered our time-saving service and superior product range!
We're in awe of the people who run large practices like Precious, which caters for a whopping 8,000 patients with just five dentists and a small support team – it's not hard to understand why they're so busy! We caught up with practice manager Donna Carter to find out more about the practice, her day-to-day routine and how Denka is making life a little easier for the whole team…
Hello Donna! Tell us a little bit more about Precious Dental Care…
Hi! OK so Precious Dental Care is an NHS practice based in Roundhay Leeds providing dental care for nearly 8000 patients (and growing!). We have five dentists and one hygiene therapist, who are supported by three qualified dental nurses and two trainee dental nurses. I'm the practice manager, and I've been here for five years. I'm responsible for the day to day running of the practice and everything else that goes along with that. Special mention must go to my lead nurse Jenny who works alongside me, supporting me, the team and patients – I would be lost without her!
You're a new customer with Denka – what made you choose us?
That's right, I've only been a Denka customer since April 2019. I was contacted via telephone by Emma who wanted to introduce herself and Denka. She sent us a sample of gloves to try, which the dentists loved, and we never really looked back. I then arranged to meet with Terry at the practice to discuss the offers Denka could make on their products, and we were very impressed. The key thing for us has been the service Denka provides – it's very busy here so anything that speeds up ordering is much appreciated. Each time I need to place an order my 'favourites' section has everything I need in there, and if not, I email Emma the code, I'm given a price and then that item is added to my favourites list, so when I need to place an order I can scroll through and select what I need. It's a huge time saver! If an item isn't available straight away I get an email to let me know how long I will be waiting. And let's not forget the free chocolate – that goes down well with the team too!
What would you say is the biggest challenge facing the dental industry?
For me it's the unknown. Change is inevitable as people's lifestyles change and as governments come and go – as a practice we are very aware of the need to be adaptable but it's difficult when there is uncertainty. Another big challenge for us as an NHS practice is patient expectation. A lot of patients feel dental treatment should be free on the NHS, so we have to demonstrate a commitment to very high quality, on a very tight budget. The materials we use have to meet the demands of clinical practice and also the patient's expectations. Denka helps us with this too because the products are excellent and they help us stick to budgets. I've already told my Principal (who owns another 3 practices), about the savings and quality of the products.
What's the most satisfying thing about your job?
The most satisfying thing about working in dentistry is the people you work with; I am so fortunate to work with a group of people who are basically like family. The support we give to one another is amazing, I wouldn't want to work with anyone else.
Tell us one thing that always makes you smile?
What always makes me smile is my cat Red, I love going home just to see his big ginger face and give him the fuss he deserves. Oh and my husband, I like going home to see him too!